Simply put, Search Engine Optimization is an internet marketing strategy to improve webpage rankings on search engines. Improving rankings will increase website traffic, which should in turn increase sales. This is a very brief explanation of search engine optimization and its different components.
What is a search engine?
A search engine is a tool used to find information inside of a database. You probably use search engines look up everything: directions, weather, answers to questions, help with homework, cooking conversions, and more. Search engines like Google help you quickly find all the relevant web pages for your particular search query and organize them from most likely to give you the information that you are looking for to least likely.
How do search engines know which web pages will be the most helpful (i.e. should show up first)?
Search engines use complex algorithms that judge websites on thousands of ranking factors. All of these factors are designed to provide the best user experience or in other words, find the information they are looking for. For the purpose of explaining Search engine optimization, we will simplify all those thousands of ranking factors down into a handful of categories. To be on the first page of a search engine a website's content needs to be Fresh, Unique and Quality.
Fresh: You wouldn't like it if you asked what the weather was like today and I told you that it was very hot and sunny yesterday. Search engines know that people like you want accurate and up to date answers and information. This is why newer content usually ranks higher than old content. (Pro Tip: regularly update and edit your content. This often referred to as evergreen content.)
Unique: Just like high school teachers, search engines hate plagiarism. NEVER copy and paste someone else's content. Feel free to quote or add a link to relevant and useful content, but make sure that any content you add to your website provides unique and relevant information on a given subject.  You also don't want to reuse the same content on multiple pages on your website. It's fine to use specific phrases or keywords multiple times, but avoid repeating whole paragraph text. (Pro tip: Google looks for duplicate content in chunks as small as 7 words. Make sure that you aren't repeating yourself all over your website.)
Quality: Search engines like content that is relevant to the search query and that is popular on the web.

Relevant: When you are searching for an answer, you want information that is directly related to the subject you are searching for. For example, No one cares about Football when they search for Hockey. (Pro tip: Optimize your title tags and header text and content using keywords and semantically similar phrases to help clarify to search engines what your content is about.)
Popular: Your website is considered popular if other websites are talking about your website. The way search engines measure this is by counting the number of links from other websites to your site

. (Pro tip: Build links from a variety of websites including high and low quality to create a natural-looking link profile.)
If you would like to learn more about the history of search engines and the reasons behind why these ranking factors are the most important read our History of Search Article Series.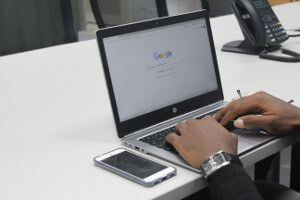 Why do you want your website to show up on the first page of Google?
Google processes over 40,000 searches a second. Many of those search queries come from people looking for your business, needing your services. In a 2014 study by Moz.com, they found that the first organic listing in Google searches was clicked on 31% of the time and the second organic listing was clicked on only 14% of the time. Only 3.99 percent clicked on a listing that was on the second page. This means that if you are not on the first page of a search engine, you are losing potential clients because they don't even know about your business.
How can a Search Engine Optimization Agency help your business?
SEO Agencies are a huge help for businesses that don't have the funds for an in-house digital marketing team. SEO Agencies offer different services and have different strategies. The following list explains some of the common services and a brief explanation of the service.
On-page SEO

– SEO companies can do many things to make your website more relevant and perform better, including Keyword optimization, page speed optimization, leveraging browser caching, internal link optimization, conversion rate optimization, fixing crawl errors, adding schema markup, and more.

Off-page SEO

– SEO Agencies can help you improve your website's link profile by building links to your site from other websites and social platforms, cleaning up online business directories, and more.

Article Writing

– Your website needs to grow. An SEO agency can create keyword-targeted content for your website that will help boost your rankings for specific search queries.
Finding the right SEO company is just as important as the services that they provide. Hopefully, this brief introduction to Search Engine Optimization will help you understand as seek to maximize your web profits